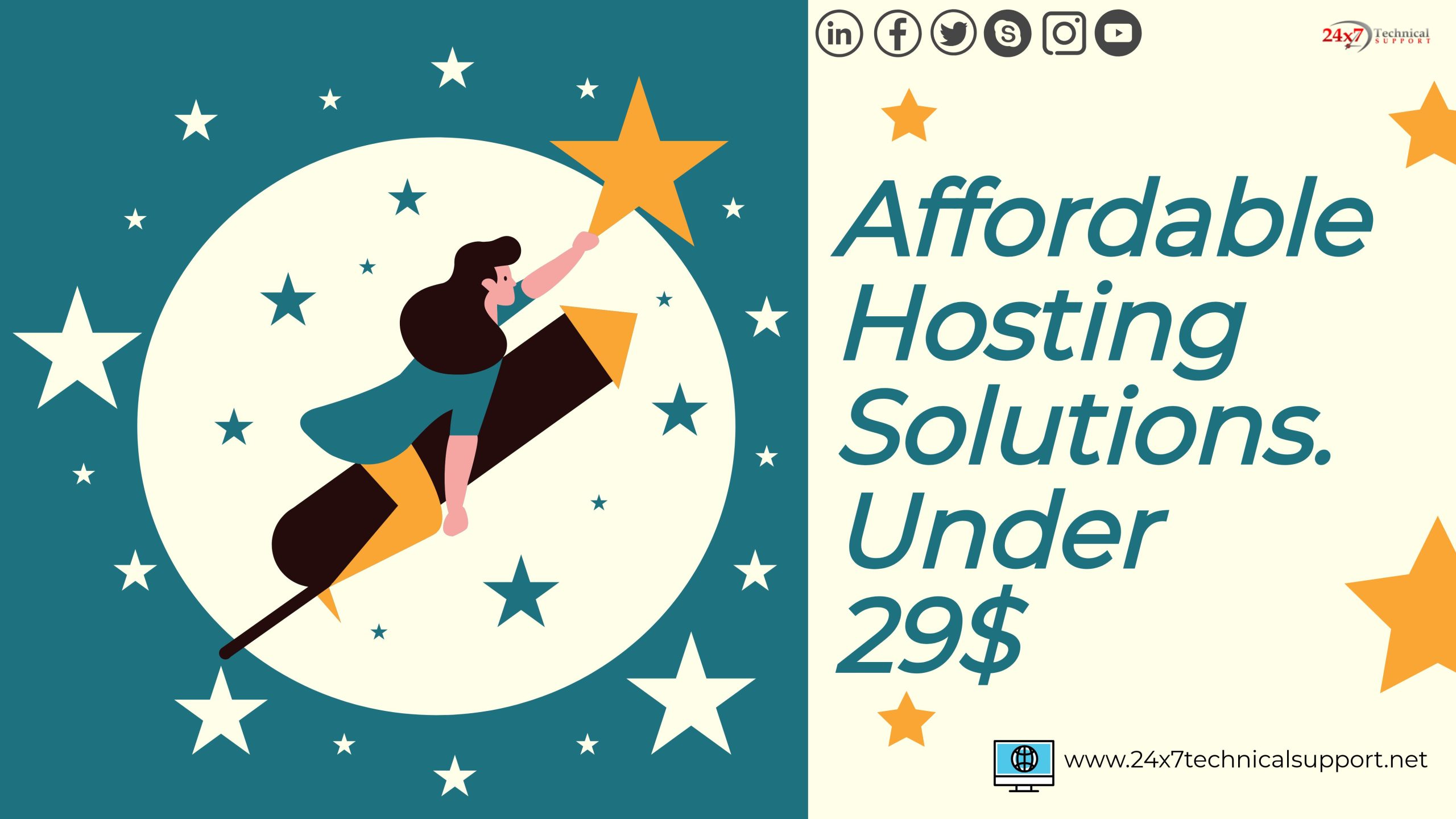 Introduction:
In the competitive world of online business, finding a reliable and affordable web hosting service is essential. When it comes to striking the right balance between cost and performance, 24x7technicalsupport.net emerges as an outstanding choice. With a budget-friendly hosting package priced under $29, they offer a comprehensive range of features and unparalleled support. In this blog, we will explore the benefits and features of 24x7technicalsupport's hosting services, making it an attractive option for businesses on a tight budget.
1. Competitive Pricing:
For businesses seeking a cost-effective hosting solution, 24x7technicalsupport offers a remarkable package priced under $29. This low-cost option doesn't compromise performance or reliability. By providing affordable hosting plans, 24x7technicalsupport.net enables businesses, small or large, to establish a robust online presence without breaking the bank.
2. Robust Infrastructure:
Despite its affordable pricing, 24x7technicalsupport's hosting services boast a robust infrastructure. With state-of-the-art data centers equipped with redundant power supply, high-speed internet connectivity, and advanced security measures, they ensure optimal performance and data protection for their clients.
3. Unmetered Bandwidth and Storage:
One of the standout features of 24x7technicalsupport's hosting package is the provision of unmetered bandwidth and storage. This means you can enjoy unlimited data transfer and store an ample amount of files, images, and databases on your website, ensuring a seamless user experience for your visitors.
4. 24×7 Technical Support:
The name says it all: 24x7technicalsupport.net provides round-the-clock technical support. No matter the time or day, their team of experts is readily available to assist you with any hosting-related issues. This level of support is crucial for businesses that cannot afford to have their websites down or face technical difficulties without prompt resolution.
5. Easy-to-Use Control Panel:
Navigating the complexities of hosting can be daunting for beginners. However, 24x7technicalsupport.net simplifies the process with an intuitive control panel. Whether you need to manage domains, install applications, or monitor website performance, their user-friendly control panel makes it a breeze for users of all skill levels.
6. One-Click Installations:
To further streamline the website creation process, 24x7technicalsupport offers one-click installations for popular content management systems (CMS) such as WordPress, Joomla, and Drupal. With just a few clicks, you can have your website up and running, saving valuable time and effort.
7. Multiple Email Accounts:
Maintaining a professional image often involves having personalized email addresses linked to your domain. With 24x7technicalsupport.net's hosting package, you can create multiple email accounts, ensuring a consistent and professional communication channel with your clients and customers.
Conclusion:
In the quest for affordable hosting options, 24x7technicalsupport shines as a leading provider. Their hosting package priced under $29 offers an impressive range of features, including competitive pricing, robust infrastructure, unmetered bandwidth and storage, 24/7 technical support, an easy-to-use control panel, one-click installations, and multiple email accounts. Whether you are a startup, a small business, or an individual looking to establish an online presence, 24x7technicalsupport.net's affordable hosting services can meet your needs without breaking the bank. Empower your business with reliable hosting that won't drain your budget – choose 24x7technicalsupport.net today! 
For dedicated support visit https://www.dedicatedsupport.com/